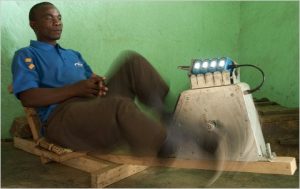 Nuru Energy sells a portable, rechargeable LED task light through microfranchise businesses.
Sameer Hajee, founder and CEO, recalls "We've won now about 20 awards. Many of them came after the [MCN] award. The [MCN] was one of the first awards we won that helped us initially prove our concept. But of all those 20 awards, the [MCN] was the only one where we actually had access to a lot of the feedback from the judges and it was fantastic in helping us to adapt the model….That's been really helpful for us, even two, three years after we won the award."
Nuru is one of many Renewable Energy companies the MCN has worked with.