Where Mission Drives Margin
The Mentor Capital Network
The Mentor Capital Network is a global web of experienced mentors and investors who support early stage entrepreneurs who are using business to solve the world's biggest social, economic, and environmental problems. We have helped entrepreneurs launch and grow organizations that have gone on to cumulatively create more than 10,000 jobs and are deploy more than a billion dollars in combined annual revenue and follow-on funding. Here are three examples of the companies we have supported. Hundreds more are listed here.
Wello empowers individuals to use the WaterWheel as an income-generating tool to lift their families out of poverty.
Cynthia Koenig, founder, recalls "The feedback I received from [The MCN] was far and away the most comprehensive, detailed and useful feedback I've received. In fact, years later, I still refer back to my feedback forms! I'm still in touch with a few of my judges, who continue to provide advice, feedback, and support."
Wello is one of many companies that the MCN has worked with who are addressing Health and Empowerment.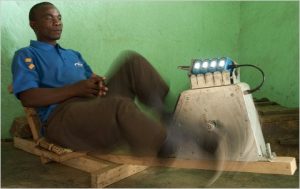 Nuru Energy sells a portable, rechargeable LED task light through microfranchise businesses.
Sameer Hajee, founder and CEO, recalls "We've won now about 20 awards. Many of them came after the [MCN] award. The [MCN] was one of the first awards we won that helped us initially prove our concept. But of all those 20 awards, the [MCN] was the only one where we actually had access to a lot of the feedback from the judges and it was fantastic in helping us to adapt the model….That's been really helpful for us, even two, three years after we won the award."
Nuru is one of many Renewable Energy companies the MCN has worked with.
Soupergirl serves fresh, homemade soup made with ingredients from small local farms that practice sustainable farming methods in Washington, DC.
Sara Polon, founder, recalls "I started Soupergirl with a very extensive to-do list that was unfinished for years. [The MCN] forced me to finish a business plan, and run the financials completely for Soupergirl. The feedback was fantastic, and helped reveal where I could save money, and where I had growth potential."
SouperGirl is one of many companies that the MCN has worked with that is focused on Healthy Food and Drink. They recently appeared on Shark Tank.