Interview with Lizzie Merrill, Project Manager of Ignitia, conducted by Henry Tanjong on Thursday April 6th 2017.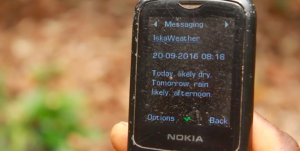 Ignitia sells daily weather updates via SMS to farmers and organizations that support them. They focus on Ghana and six other West African countries. Their software has been twice as accurate as traditional forecasts for tropical areas. The farmers get access to high-level information tailored for their specific region, to help them make planting decisions. The company is based in Sweden, and is led by Liisa Petrykowski and Valgren Andreas.
How is everything?
Good but we are very busy now but great. We got involved because farmers in tropical area did not know how to work around the weather.
What are the challenges you face?
Scientific challenges, weather forecast in the tropics have never been created. It took us 15 years research to create weather forecasting model we have since 2010 with lots of work that was our greatest challenge.
Working in Tropical Africa is very challenging due to literacy level especially the people we are trying to reach or help. Like getting accurate weather forecast into the hands of our target population.
How do you overcome this challenge?
By working with farmers to see what the actually need and how they can be reached.
Infrastructure is a problem and due to that we make use of cell phones which almost everyone has. We make use of any phone that can use text function
How do you overcome subscribed farmers sharing information non subscribed farmers?
Yes we know about this problem because it is not too much of an issue of because our fees are so small that it would be cheaper for all farmers to get the service from us that another source. So farmers like to sign to get their own forecast sent to them.
How does your model work?
Weather model encompasses all kinds of weather information in the future. Such as historical data, soil, moisture, temperature, long term planning, and more information for those doing high tech agriculture. We have city people who are interested in weather forecast app. Testimonials from Ghana farmers reveal increase in yield due to weather precision forecast.
How do you get in a new market?
Going to a new Country depends on local market operation. In most English speaking countries, we need a local office on the ground but in most Francophone Countries, like Mali, Senegal, we can operate using the local phone system like Orange phone Companies and MTN phone company. The case for Cameroon can be 50/50 due to the fact that Cameroon is a bilingual Country. So in Countries that the app is through the phone system the farmers can subscribe through the local phone companies.
Just to add our services are publicize through word of mouth and others that are interested in our services are traders, students, women, and also construction workers.
You can learn more about Ignitia at http://www.ignitia.se/